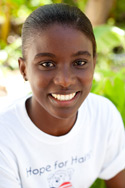 Miss Fildor Dapheline – Nurse, Hope for Haiti's Infirmary Saint Etienne
Jennifer Lang, Program Manager – August 13, 2012
"I've always wanted to be a nurse. When I was little and people around me got sick, I would try to take care of them. I always knew I would be good at this, and I always want to keep learning more," says Miss Fildor Dapheline, a nurse at Hope for Haiti's Infirmary Saint Etienne in downtown Les Cayes. Miss Fildor joined our team in 2009, as one of the organization's first full-time staff members. The brand new primary healthcare facility hadn't opened yet to the public, but Miss Fildor knew she had the opportunity to contribute to something special. "It's important to have courage and be the first part; the beginning is never easy, but you have to start somewhere."
The Infirmary Saint Etienne caters to the poorest of the poor in rural Haiti, a mission that resonates with Miss Fildor. "Our work is important because healthcare is extremely difficult for people to get. We don't have enough hospitals. People come from really far away for services. And when you get to a hospital, most can't afford medication or lab tests. People die because they don't have the means to pay. So we're giving a huge service to the country. Medications are given for free, even the really expensive ones. If we didn't have the clinic, people wouldn't have places to go. Many people would die."
During her coursework at the National nursing school here in Les Cayes, Miss Fildor chose to focus on pediatrics and surgery. "Kids, especially sick kids, can be hard to understand. When you're good at pediatrics, you can enter a room and know what's wrong even when the patient can't explain it to you." Miss Fildor has also been integral in developing the Infirmary's growing specialty in wound care.
Patients presenting with complications from diabetes, suffering after an accident, or recovering from surgery all fuel the nurse's continued passion for knowledge. "Cases that I am not used to seeing surprise me. I like when I see something new every day, I keep learning." Many of the wound care patients, who come every day for bandaging, return happily because they notice improvement. "I like the recuperation period after a surgery, when people are getting better. You feel like you're a part of their joy."
When reflecting on the past three years of her work, Miss Fildor described her work comforting patients. Sharing a story of the healthcare team's emergency response following the January 2010 earthquake, she beamed with pride as she remembered inventorying medications and supplies and working with visiting medical missions. As a nurse, "I feel like I play an important role in society. I live in a country without enough medical personnel. Almost everyone in my country needs care. We need professionals to work in medicine, so I feel like I'm doing my part. I give service to my country."
For the future of Haiti, "I hope all Haitians come together, put our heads together, for the country to develop. Especially in newspapers, they only talk about the lack of security. But we have pretty places, pretty beaches, pretty people. We have la joie de vivre. We are a people who are extremely strong, who are always fighting, even those who have nothing." Miss Fildor Dapheline exemplifies the strength of the Haitian people. "I'd like to travel and visit other countries, visit my mother and brother in Saint Maartin. I'd like to become an anesthetist and work in the operating room. I'd like Hope for Haiti's Infirmary to expand and provide surgical care, and also open up locations in other areas so we could see more people." The future holds high hopes for Haiti.