Friends Asking Friends
Friends Asking Friends (FAF) is specially designed to enable our constituents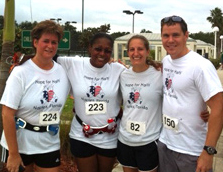 to fund-raise on Hope for Haiti's behalf by reaching out to their friends and family using online tools.
Be it a walk, run, virtual event or something completely out of the ordinary, FAF allows us to post important event information, such as dates and times, as well as gives us the ability to foster peer to peer fundraising through online registrations, donations, and other social functionality.
It is simple to join the My Hope for Haiti Campaign. Just follow the steps below:
Step 1: Choose a registration option that best matches how you plan to accomplish your goal.
You can either:
Start a team, become a Team Captain and help collect donations from friends and family.
Join an existing team and help collect donations from friends and family. Show me how.
Join as an individual participant, not linked to a team, and help collect donations from friends and family. Show me how.
Register several people with one transaction. They will work together to collect donations from friends and family and share a personal page. This is a great option for families where one person can administer the page on behalf of all the members. Show me how.
If you choose not to join the Friends Asking Friends initiative you can still make a general donation by clicking here or support a family member or friend involved in the program by searching for them here and making a donation on their behalf.
---
Step 2: Setup Your Personal Page
When you register online you will automatically be directed to your personal headquarters. One of the first things you are encouraged to do is edit your personal webpage and make it your own. Share your story and your reasons for participating in the event.
---
Step 3: Start Your Fundraising Campaign
Once you have joined Friends Asking Friends and have your personal page set up, you can start your email campaign to solicit friends and family for donations and to build your team. The email message will automatically include a direct link back to your personal page to make it as easy as possible for them to make a donation or join your team. Each registered user has access to a suite of easy-to-use email tools. Your email tools include:
Address Book Import
Import your Outlook, Yahoo!, Gmail, or other address book to get things going quickly. Note that your friends' and family's privacy are protected by restrictions on the use of those email addresses you have uploaded. Once you have imported addresses into your address book, you can use the address book to select your friend's email addresses. If you don't want to use the address book, you can send out quick emails to your friends using a simple address entry tool. Please note that Gmail has specific permission based settings that may need to be changed in order to upload your contacts.

Email Campaign Center
Use your email campaign center to create email messages or use a template. Choose from one of the pre-created email templates from the organization or create your own message. Finally, send your email and please don't forget to keep in touch with your donors by sending thank you notes and messages to let them know how you or your team is doing.
---
Step 4: Spread the Word!
Spread the word and send emails to friends and family. Let them know about the My Hope for Haiti Campaign and inspire them to help in our mission. Thank you!
Any additional questions? Please contact us at 239-434-7183. Good Luck!