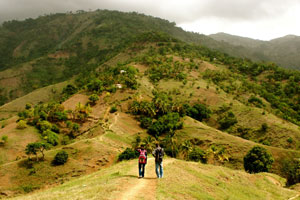 April 28, 2010
Experiences like today make me feel as though things might one day be right with the world.
While visiting schools in our Education Program, I was accompanied by our two community health nurses, Miss Pierrette and Miss Rachel. Together they're leading our newest Nutrition initiative to deliver public health outreach to Hope for Haiti's 25 supported primary schools in the south.
The program, which all started thanks to Hope for Haiti's partnership with Vitamin Angels out of Santa Barbara, California, has three components: distributing Vitamin A boosters to preschoolers five and under, providing all students with Albendazole (de-worming medication) and one-month packets of multivitamins, and leading an interactive lesson on hygiene, health, and nutrition.
| | | |
| --- | --- | --- |
| Mother and her 7 kids come for Vitamins at Marre a Coiffe Primary School | Community Health Nurses Miss Rachel and Miss Pierrette Prepping Multivitamins | Beginning the public health lesson inside Mogis Primary School |
What makes today stand out is the distance we traveled to connect this program with students in rural areas. I hiked with Pierre, our agronomist and translator, and Ronald, the area's school supervisor, to Marre à Coiffe, Tiami, and Mogis Primary Schools. These schools are far away – inaccessible by car, over two hours above the nearest healthcare facilities – and filled with hundreds of children in need of nutrition interventions.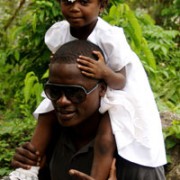 Maudeleine on Pierre's shoulders
One of these children was Maudeleine, the Director of Mogis' niece. Because of where she lives, Maudeleine doesn't go to a doctor regularly. She doesn't get the Vitamin A boosters given in equipped health clinics, and she doesn't take multivitamins every morning. Chances are, she gets worms regularly and lacks essential components of her immune system to fight off common childhood illnesses. Sadly, Maudeleine is not alone.
As we left Mogis, Maudeleine came teetering down the mountain past me. Her little arms outstretched, she hopped delicately over the rocks; a playful four-year-old balancing act in a crisp white dress. Without second thought, Pierre bent down, scooped her up, and placed her squarely on his shoulders. As they plodded down the mountain in front of me, smiling and laughing, I saw the purpose of this program before me. In a snapshot, it all made sense:
Maudeleine doesn't have to make it entirely on her own. Yes, perhaps she could. But she shouldn't have to. Today, on Pierre's shoulders, she won't. And maybe when things actually are right with the world, no child ever will.
But until then, I'll keep feeling good about today. And Hope for Haiti will prepare to replicate it for the months to come. Our endeavor was small, but it was real and measurable. Mountains were crossed to make it happen, but each of the beneficiaries-each student, every face; was far worth the effort.
Patrick Eucalitto, Program Director