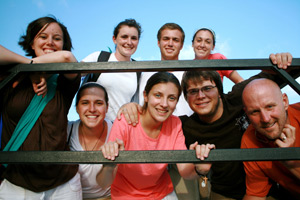 June 11, 2010
This past week Hope for Haiti field staff spent eight days with an outstanding group of college students from the University of Scranton's International Service Program. Led by Ms. Elise Gower (Program Coordinator) and Joe Boyd (Faculty Chaperone), the students selected for the trip were responsible for an entire semester of planning, fundraising, education, faith-based reflection, and community building. Once on the ground in Haiti, their objective was to learn, their task to serve, and their framework to question the realities they encountered as much as the ideas they brought with them.
The result was a refreshing combination of service and discovery – an exploration into the challenges facing developing countries and the values that shape how we think about and act toward them.
The group witnessed the diversity of Hope for Haiti's programs in Port au Prince and throughout the southern peninsula. They visited IDP camps and rural schools, assisted with Vitamin A and multivitamin distributions, helped lay a cement foundation by hand at the Hope for Haiti Infirmary, and volunteered with the Missionaries of Charity. Their most meaningful project entailed cleaning up and painting an orphanage in downtown Les Cayes. Working alongside the home's 19 boys, 2 girls, and 2 host parents, the Scranton team helped transform the entire living space in less than two days. Old, dirt-covered walls were rejuvenated with fresh, bright paint. The floors were cleaned, furniture rearranged, and basketball hoop refurbished.
| | | | | |
| --- | --- | --- | --- | --- |
| The refurbished basketball hoop, already being put to good use. | | Schneider, one of the orphans, with the original walls in the background. | | The transformation. |
| | |
| --- | --- |
| A finished room. | |
The project's most rewarding aspect, however, was not the physical improvement of the orphanage but the connections forged between the American and Haitian students. In line with Hope for Haiti's overall methodology of partnership, the group didn't paint or repair for anyone; we painted with them. The pictures posted here show the work and the transformation.
The students rounded out their week with a reflection on faith and a call to action. Despite their project's success, they realized that poverty in Haiti can leave us all feeling pretty helpless. So they questioned and collectively sought to answer an open-ended question: what will they do? Friend, colleague, reader: what will you do? What do we all have to offer people who deserve our service and merit our respect? With regard to this group, Hope for Haiti cannot wait to see.

Our Mission
We work to improve the quality of life for the Haitian people, particularly children.
US Headquarters – Naples, Florida
1021 5th Ave North
Naples, FL 34102
Ph: 239-434-7183
Fax: 239-434-2839