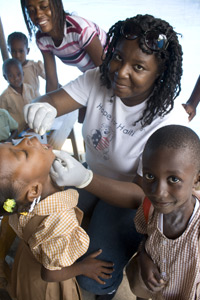 | | | | |
| --- | --- | --- | --- |
|   | | | Pre-School student at Pereno takes Vitamin A booster |
January 29, 2011
In 2009, Hope for Haiti began a partnership with California based non-profit, Vitamin Angels, to supply micronutrients to our network of supported schools and clinics in southern Haiti.
One of our initial visits took place at Platon Primary School in the seaside mountains of Côtes de Fer, where Hope for Haiti helps support Teacher Salaries. Accessible only on foot, the school's 124 students rarely set foot in a clinic.
Over the last year and half, however, the students of Platon have received visits from Hope for Haiti's Public Health nurses and field staff, who conduct health education lessons, distribute Vitamin A boosters and de-worming medication, and stock the school with supplies of multivitamins.
This past week marked our third visit to Platon. Trekking to seven schools in five days, we conducted lessons on the link between hygiene and cholera and distributed quality medications. In all, we reached a total of 1,156 students in Kindergarten through 6th grade. The accompanying photos capture a small part of the trip and the preventive healthcare activities it accomplished. Thank you Vitamin Angels for your partnership and for helping to make this possible!
| | |
| --- | --- |
| Miss Rachel at St. Rose of Gris Gris | Pereno Primary School, one of our seven stops |