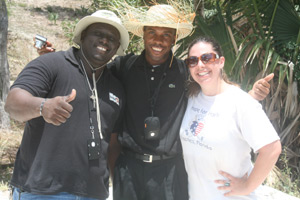 Sarah Dutcher, Country Director, March 30, 2011
When Pierre, Hope for Haiti's Operations Officer, suggested I might need to ride a donkey to get to Platon, I thought he was joking. But part way through our journey to Platon Primary School's Ground Breaking Ceremony, I realized his advice was only half in jest. After 1 hour on a paved two-lane highway, 2.5 hours on a bumpy dirt road, and another slow hour over rocky terrain, we arrived at the end of the road – or the start of the trail to Platon. There is no "road" to Platon, only a narrow footpath and a grueling 45-minute ascent over two hills and to the peak of a third. As our team of Hope for Haiti and buildOn representatives arrived, I sat down under a tree on top of the hill, overlooking the sea and the buzz of village life, and marveled that the people of Platon make that hike almost every day while carrying goods and making their living. It is inspirational to feel so engulfed by the welcoming attitude of this village, while appreciating the general hardship of their everyday lives.
On March 28th, 2011 despite these geographic obstacles, Hope for Haiti and buildOn broke ground on a new school for this wonderful community. Clerge Gary, Field Coordinator for buildOn, addressed the community at the groundbreaking ceremony with these words, "Every child has a right to an education, not just children who live in a city. Platon may be hard to reach, but your children deserve a quality education, and Hope for Haiti together with buildOn are going to help give you one."
Platon serves as an example of Hope for Haiti's dedication to empowering rural communities. Tiffany Kuehner first visited Platon in 2007, and immediately recognized the drive and passion of the people on this remote mountaintop. She was amazed at Platon's commitment to providing their children with access to an education – a commitment so strong that the parents and grandparents worked together each year to rebuild the one-room school structure using sticks, banana leaves, and palm fronds. Although they lack the funds to construct a new cement schoolhouse, the students and families have mobilized to bring rocks, sand, blocks, and other local materials to the property in hopes of a future opportunity to build. Last year 126 students, 8 teachers, and 1 director showed their commitment to education when, despite all of these obstacles to learning, 90% of the 6th grade class succeeded on their national exams.
| | | |
| --- | --- | --- |
| | Construction plans for the new school in Platon, drawn by Clerge Gary of buildOn | Pierre Theodore, Hope for Haiti assists member of the community of Platon sign their names and give their thumbprint to a contract stating that the people of Platon will assist in building the school. |
Due to the enormous generosity of our donors this year, Hope for Haiti is partnering with buildOn, a non-profit dedicated to building schools with community resources in rural areas around the world, to solidify in bricks and walls the education available to the children of Platon. Today, as we enable Platon to chart a new future for itself and its children, Hope for Haiti looks back on three years of consistent support for the teachers and director of Platon. After providing the resources the school needs to operate, we are now teaming up with buildOn's expertise in construction to improve the environment in which they do it.
At the key moment of the groundbreaking ceremony, each village member who will assist with building the school signs his or her name to a contract, signifying the partnership between buildOn, Hope for Haiti, and the community. Whether written in ink or stamped with a thumbprint, this contract holds buildOn accountable to providing outside supplies and a skilled labor team, while Platon is committed to feeding and housing the skilled labor team, gathering any materials they can offer, and most importantly, promising to work side by side with the labor team to construct their new school. In about 90 days, through this marvelous mix of dedication and hard work, Platon will have a new schoolhouse, and the village without a road will be equipped to teach their children through every season and every year.