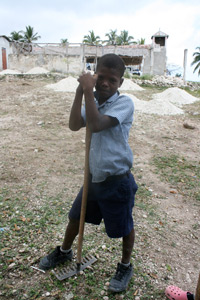 April 16, 2011
Recess looks different these days at St. Antoine Primary School.
As the joint Hope for Haiti and buildOn site visit draws near, parents, students, and teachers alike spend less time playing and more time working toward their collective goal of improving their primary school environment. Building a new schoolhouse with local materials and community labor will help them overcome the damage wrought on their school by the 2008 hurricanes and the 2010 earthquake.
When the 10:30 am bell rings, a group of teenage boys and girls led by 6th grade teacher, Fakety Laloi, and 4th grade teacher, Rosemond Exael, hike 15 minutes down the steep hill northeast of the school. Empty buckets and bottles in hand, they slide carefully into the riverbed nestled at the bottom of the ravine. At the small waterfall that churns in the shade of lush banana trees, the students fill their vessels in orderly fashion and with disciplined efficiency. The water will mix to make the cement, to set the bricks, to build the new school.
The hike back up the hill is even harder than it sounds. Something heavy falls – a crash, a splash, followed by a few hard laughs. One of the boys lost grip on his bucket. Back down he goes, say the teachers. Fill it again and catch up with us! The school is important, the water is key, and the hill, despite its steep challenge, is secondary.
Back up on the build site, the rest of the community is abuzz. Boys carry sticks that will stake out the building's foundation. Girls clear rocks out of the way, lurching them over their shoulders like shot puts. Older men scythe the earth. Fire burns away the underbrush. Women clear and clean and carry.
| | | | |
| --- | --- | --- | --- |
| buildOn team discusses building plans for St. Antoine | | St. Antoine students excited to have the groundbreaking day finally come! | |
Meanwhile, the engineering team scopes and thinks and plans because today, with ropes and poles, the ghost of a school will be set. The bones and body will follow in the coming weeks. But already, the community is the beating heart. The meeting tonight will capture their dedication; signatures and thumbprints will christen their commitment to turn the raw materials ferried at recess into a better future.
In the community next door, Platon Primary School is two weeks in the making. The men and women there, hand-in-hand with Hope for Haiti and buildOn, are also overcoming the odds of their challenging environment to build a school. In both communities, where palm fronds and crumbling bricks long held crowded classes, recess will not look the same again.

Our Mission
We work to improve the quality of life for the Haitian people, particularly children.
US Headquarters – Naples, Florida
1021 5th Ave North
Naples, FL 34102
Ph: 239-434-7183
Fax: 239-434-2839