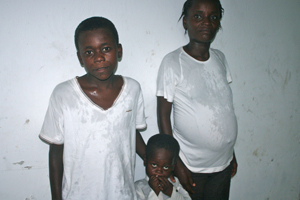 Jennifer Lang, Program Assistant, August 24, 2011
Five-year old Jean-Will came to Hope for Haiti's long-term partner Missionaries of Charity less than 2 weeks ago. His mother, Francique, had no remaining outlets for her child's rapidly depleting health. Unable to pay for services at the public General Hospital, she turned to the Sisters after Jean-Will stopped eating entirely. He was admitted for malnutrition when Sister Guadeloupé noticed his head swelling, his fever spiking in the morning and evening, and his failing balance and eyesight.
| | | |
| --- | --- | --- |
| | Jean-Will takes cover from the rain | Jean-Will with mother Francique at MoC |
His symptoms were consistent with hydrocephalus, a disease where fluid gathers in the brain. This disease has largely been eliminated outside the developing world. The Sisters called Hope for Haiti and Jean-Will was admitted to the Robert E. Hord Emergency Medical program, which funds surgeries and specialized treatment in life-threatening cases. Five days after coming to Missionaries of Charity for help, Jean-Will travelled with his mother to Hospital Bernard Mevs in Port-au-Prince for a consultation at a specialized hydrocephalic treatment center funded by Project Medishare. He was diagnosed with cerebral malaria – which caused the swelling in his brain and would have killed him without treatment.
Little Jean-Will is now back at home with his mother. Six days of malaria medication have made him more alert and diminished his fevers. Though it is too soon to tell whether he will have cognitive complications further down the line, he is now energetic and animated. With fewer than ten days of contact with Jean-Will, Hope for Haiti was able to save his life by providing the family with less than $90 worth of transport stipends, medications, and supplies.
After the family braved the rains to visit the Hope for Haiti office, Francique explained her plans to visit the Hope for Haiti Infirmary Saint Etienne for their future healthcare needs. With their only income from her husband's small-scale rice cultivation, the Infirmary's low-cost consultations and medication can help her care for five-year old Jean-Will, his big brother, and soon a new baby.

Our Mission
We work to improve the quality of life for the Haitian people, particularly children.
US Headquarters – Naples, Florida
1021 5th Ave North
Naples, FL 34102
Ph: 239-434-7183
Fax: 239-434-2839