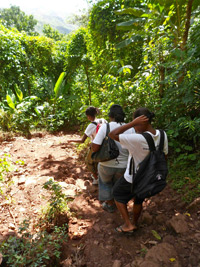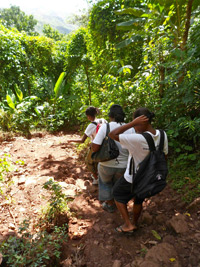 Hope for Haiti staff make the long trek back down the mountain
Paula Prince, Program Manager, October 28th 2011
In Haiti there are hundreds of small villages tucked away in the mountains, far removed from the hustle and bustle of city life. Because the small paths that lead to the villages are exceptionally rocky and steep, many of the villages are only accessible by foot or on the back of a donkey or mule. Hope for Haiti actively partners with schools in these ultra-rural communities, to ensure that the needs of Haiti's rural poor are addressed.
On Thursday, October 27th Hope for Haiti staff conducted a joint Education and Public Health site visit to the mountain village of Cornette. After completing the extremely challenging 1.5 hour hike in the mountains around Saint Louis du Sud, Hope for Haiti staff distributed Vitamin A, Albendazole and Multivitamins to the children at Cornette Primary School, while educating the school's 43 students on the importance of personal hygiene.
Program Manager, Paula Prince, trains Bertin Misson, Director of Cornette Primary School, on how to properly use the Sawyer water filter
The distribution of Vitamin A to Cornette's preschool students was made possible by Hope for Haiti's partnership with Vitamin Angels, an organization that aims to reduce child mortality worldwide by providing malnourished children with essential nutrients. Both the Vitamin A and Albedazole, a medication provided by the Worm Project that helps eradicate intestinal parasites, are crucial for children in rural villages such as Cornette. The children's swollen bellies attest to the fact that many of them suffer from nutrient deficiencies and parasites.
During this particular visit, Hope for Haiti also partnered with Catholic Relief Services and Minustah (the United Nations Stabilization Mission in Haiti) to provide Cornette Primary School with a Sawyer water filter. The Sawyer filter's advanced filtration technology will ensure that the school has a steady supply of potable water.
In addition to the aforementioned health and water distributions, Hope for Haiti provides vital teacher salary subsidies to the school's six educators and support for school materials and supplies through our "Back to School Fund". Hope for Haiti's Public Health Program ensures that students at Cornette Primary School receive essential information on themes such as disease prevention and hygiene.
The needs of rural mountain villages such as Cornette are immense. The location and lack of transportation access mean that villagers must walk for nearly 2 hours down a rocky mountainside, rain or shine, to receive any sort of medical attention. Thanks to those who believe and support our mission, Hope for Haiti is able to work in partnership with Cornette Primary School to ensure that some of the community's many needs for education and public health are addressed.