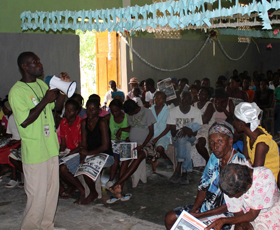 In partnership with AmeriCares, Hope for Haiti is helping people in rural Haiti recover from the aftermath of Hurricane Sandy.  This disaster took us all by surprise and required coordination with our long-time partners on the ground.  With cholera an ongoing threat to livelihoods and food insecurity rising, Hope for Haiti turned to partner AmeriCares for immediate help.
CHW Plesimond Falios leads a community meeting
on ways to treat and prevent cholera.

Morency community members read about cholera prevention.
For over 24 years, Hope for Haiti has had a special partnership with AmeriCares.  It all began when Hope for Haiti's Founder and Chair, JoAnne M. Kuehner, DM, travelled to Haiti as a member of the AmeriCares board.  Under the tutelage of AmeriCares' founder, the late Bob Macauley, JoAnne saw first-hand the incredible work of AmeriCares in Haiti and was compelled to make a lasting difference.  The birth of Hope for Haiti and its development over the last two decades was made possible because of the passion and commitment of our partners and visionaries.
We have seen how, together, we can accomplish so much more. We have depended on our colleagues at AmeriCares in the most challenging of times.  This year has been no exception.  AmeriCares' gifts in-kind to Hope for Haiti have totaled more than $65,000 in value over the last year.  Supplies such as water jugs, oral rehydration salts, hand sanitizer, water purification tablets, and other hygiene products to help prevent the spread of cholera were directly distributed in communities, in addition to Hope for Haiti Survival Buckets containing enough food, candles, matches, soap, toothbrushes, and toothpaste for a family of five in the wake of a disaster.
Most recently, Hope for Haiti received an emergency grant to purchase food for our Survival Buckets.  The timeliness of this grant was paramount, as Hope for Haiti was completely out of food in the wake of Hurricane Sandy.  These buckets will be distributed to program partners and communities in the south where the hurricane hit with a vengeance, damaging roads, homes and livelihoods. A portion of the Buckets will remain in the Hope for Haiti depot prepositioned to respond to any emergencies that may happen in the future.
"It is important to let people know that you see a rise in diseases like cholera after hurricanes.  People need to understand how and why they need to prevent cholera.  That is what we do," says Community Health Worker (CHW) Plesimond Falios.  Using knowledge acquired through monthly trainings, Hope for Haiti's CHWs, like Plesimond, educate their local communities on topics such as hygiene, nutrition, and disease prevention.
| | |
| --- | --- |
| | |
| Program Assistant Arianne Pingledis explains the importance of handwashing. | Program Assistant Liz Warren distributes emergency buckets and ORS to a community member. |
AmeriCares supplies aid in cholera prevention, but also provide relief in the aftermath of an outbreak and improve the day-to-day lives of people in the community. "The water jugs are important," says the director of Morency Primary School.  "Families can use them to keep some good water in the house, and use it to cook their rice."
Hope for Haiti's partnership with AmeriCares continues to connect, heal, and empower families as it has from the beginning, more than 20 years ago.  While cholera continues to claim lives throughout Haiti, especially after storms and other natural disasters, partnerships like this one, allow for a more coordinated and effective response  A well-rounded intervention program, which focuses on both treatment and prevention, will help us win the fight against cholera in rural Haitian communities.