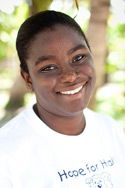 "This is My Haiti" Dr. Elmide Nazaire, Director of Infirmary Saint Etienne
May 7, 2012 – Jennifer Lang, Program Manager
Doctor Elmide Nazaire, Director of Hope for Haiti's Infirmary Saint Etienne, embodies the ideals that define our mission. When she's not consulting on the over 150 cases seen per week and managing ten staff members, she gives back to her community and leads by example.
Dr. Elmide's family home is in Beaumont, Grand Anse – a small town close to Jeremie, a city known for its traditional Ra-Ra bands and annual Flag Day celebration on May 18. Her father was a successful farmer, teacher and school director, and the first elected Mayor. Her mother supported her father's passion for nature by selling agricultural goods as a businesswoman. The pair encouraged Elmide and her siblings to pursue the best education, no matter the locale.
"I always wanted to be a doctor, even when I was little and we were playing," says Elmide of her childhood dreams. After succeeding in competitive primary and secondary schools, Elmide sat for and excelled on the national scholarship examination to study medicine in Cuba. "My father's passions were nature and medicine, but my mother focused on medicine. My brother considered both studies but finally chose Agronomy, so they were excited and very proud when I chose medicine!"
Studying in Cuba offered opportunities rarely accessible to Haitian students due to a lack of resources. "The Cuban medical system is much more advanced, and services are provided free of charge for patients," remembers Dr. Nazaire as she contemplates the differences between her past and present. Patients in most Haitian hospitals are often asked to pay for their own sheets, food, and IV transfusions. Still, Elmide never hesitated to return and serve her country. "I always dreamed of studying abroad, and my scholarship in Cuba allowed me to achieve that goal. Of course, I would love to travel, but there is nowhere I would prefer to live my life. I love Haiti too much!"
Dr. Elmide's love of and hope for her country describe her day-to-day work with Hope for Haiti. When asked to share her most poignant memories, she speaks of treating patients in a makeshift triage center at the Hotel Villa Creole in Port au Prince following the devastating earthquake on January 12, 2010. She tells me about Joel, the patient who returns each morning to the Infirmary – even when follow-up is not needed! – because he is so encouraged by the improvement in his condition. She describes her nation as "calm and tranquil," a view so rarely expressed in the media following years of political turmoil and natural disasters.
"If Haitians want it, Haiti will change. But our future depends on everyone." Dr. Elmide is working overtime to secure the future of her country. After completing her studies in Cuba, Dr. Elmide returned to the South to serve those in her community. "I always want to continue to improve and learn what helps me in my profession, and I dream of one day specializing in Obstetrics and Gynecology."
In January 2011, she founded a leadership program for children at her family church in Beaumont. The Club now counts over 120 children, who have weekly meetings where they receive lunch and are encouraged to continue their education. It also provides an opportunity to pursue the arts, including a performance which featured choral songs, dances, and theatre scenes. "I think my capacity for helping others is something that makes me special," beams Dr. Elmide as she pulls up pictures of the children celebrating in pink and white costumes on her Facebook page.
"I encourage a lot of people to study medicine. In my opinion, there is nothing more important than health," says Dr. Elmide with a knowing smile. In her over 2 years with Hope for Haiti, Dr. Nazaire has changed the lives of many in and around Les Cayes. "I love my job, I really love my job. I get to help people, to help them with my whole heart. And that is what makes us the true hope for Haiti."