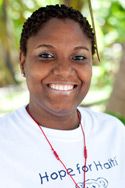 "This is My Haiti" – Dr. Esperance Dupervil
Dr. Bernadette Esperance Dupervil has been working as Hope for Haiti's Infirmary Saint Etienne Dentist for the past two and a half years. Entering as a volunteer, Dr. Dupervil supported Healthcare Director Dr. Steeve Victor with all tasks, even working in the Pharmacy and arranging donated medications. Reflecting on her tenure, she describes Hope for Haiti as a "family – because in a family we support each other. That's what I've seen during my time here."
Family has defined much of Dr. Dupervil's professional and personal experiences. As a child, Dr. Dupervil was an active ballet dancer and dreamed of becoming a psychologist. Education was extremely important to the family. Her siblings include an engineer working in Delaware, a pediatrician trained in Cuba, and a secretary working in Florida. Explaining their exceptional motivation, Dr. Dupervil cites her father—a fellow dentist in Les Cayes, Haiti – as an influence. "My dad's happiest day was when I decided to be a dentist. I hated the idea of it at first, but when I was in high school I started working with him at his clinic during my vacations. After a couple of years, I started to love it. Then, I took the exam – five years later I was a dentist. Some of my dad's friends were my teachers, so they always motivated me because I was expected to do better than everyone else. It was especially important to my family because I was the woman on my mother's side of the family to continue the farthest in my professional education."
Her mother inspired the devoted daughter growing up. "Every year for New Year's, my mom prepares eight pots of soup joromou to give to the poor." The delicious pumpkin soup is the symbol of New Year's and Haitian Independence Day. "My mom turned giving to others into a big party. She's done it ever since I was little, and she still does it. I learned charity work from her; Even if I don't have much, I share it." This drive to serve others motivates the Dentist every day in her work at the Infirmary, where she serves the poorest of the poor – for less than 37 cents per visit for many patients who have never had access to previous care.
"The best word to describe my work is 'patience.' I find that when you're a dentist you have to be calm; the patient can feel your nerves. If you're not calm, the patient won't be calm." Her passion for working with the Infirmary's patients extends to the Pharmacy. "Medications are really expensive in Haiti, especially for two month prescriptions. We help people who can't afford it, who have to choose between medication and food. It's really important to me that we give away our medications for free."
The twenty-nine year old is a new mom and hopes to keep growing, in her family and her profession. "I hope that the educated class of Haiti doesn't leave. If I'm leaving, my peers leave. Haiti can't develop without our leaders. We should stay, and help build, and fight to get better. Even if I don't see the progress, my children will. I believe it can get better." To advance her career in Haiti, Dr. Dupervil hopes to continue her education. "It's difficult in Haiti to do correspondence courses, but I'd like to study more specialty courses. I'm particularly interested in psychology to help treat my patients, and then medical administration is of growing importance."
"What my dad taught me made me love being a dentist – I can't see myself doing anything else!" Dr. Esperance's dedication to her patients, and to Hope for Haiti's mission to serve the people of Haiti, make her a valuable asset to our Infirmary and to her country".