Distributed over $100,000,000 in cash and in-kind donations for Program Support
Thanks to all of our partners, Hope for Haiti has been able to show real success and geometric progress in poverty reduction through our focus on building sustainable communities.
Education
Demonstrated belief that education is the foundation of community development and the way out of poverty by sponsoring just one child in Port-au-Prince in 1989 to slowly expanding to education partnerships throughout Port-au-Prince and in Les Cayes and the rural South.
Executed a wide range of education programs including: teacher salary subsidies to ensure quality teachers, book share fund providing students with five core subject textbooks and notebooks, back to school supplies equipping students with materials each year, small scale construction in partnership with buildOn, school lunch programs featuring local produce, impacting the work of more than 600 teachers and 15,000 students annually (when supporting 60 schools), and 450 teachers and 10,000 students annually (when supporting 40 schools).
Constructed four three-classroom blocks in rural areas and eight three-classroom blocks in our two Sustainable Communities, meaning that 1,089 students now have the opportunity to learn in a safe and permanent school structure.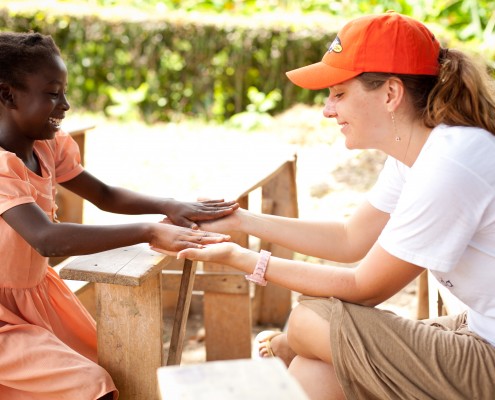 Provided Back-to-School funds totaling $175,745.00 since the January 2010 earthquake benefiting 40 schools and enabling them to purchase school supplies, teaching materials, repair school structures and build benches and chalkboards for their classrooms.
Directly trained 137 teachers and indirectly trained over 300 others through specialized teacher training workshops; distributed over 45,000 books and notebooks to 40 primary and secondary schools through our Book Share Program and World Bank Book Fund.
Healthcare/Nutrition
Responded to the 2010 earthquake by Hope for Haiti staff from our operations base in Les Cayes and a medical team from Naples, FL to facilitate a clinic that served over 15,000 internally displaced people; our teams worked around the clock and saw around 150 patients per day.
Designed a six module school-based Public Health curriculum that trains local Community Health Workers from each community to share critical public health information with Haitians in rural and remote communities on topics like personal hygiene, nutrition, and worm prevention and treatment.
Served an average of 80 patients a day at our Haitian-run Infirmary St. Etienne, meaning that since opening in May 2009, our staff has helped over 100,000 medical and dental patients.
Partnered with a clinic in Baraderes, a rural and remote community deep in the Haitian mountains, to distribute multi-vitamins to 10 schools in the area keeping 4000 students healthy each year, and to train over 80 midwives with education on safe birthing practices.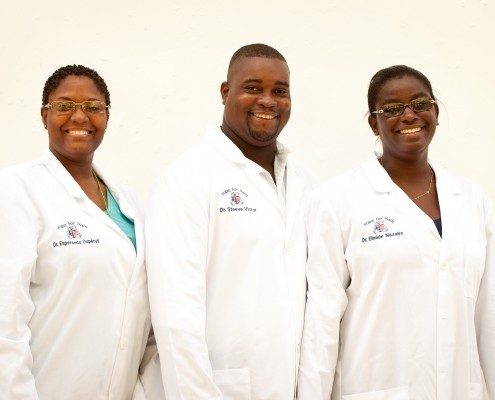 Maintained a network of 19 nutrition partners throughout Les Cayes and Southern Haiti, like Missionaries of Charity where we support programs like in-patient and out-patient services and quarterly purchasing of essential items, like soap and medicines, that serve nearly 1,500 total beneficiaries, including orphaned, vulnerable, and malnourished children.
Clean Water
Maintained 13 clean water sites (12 UV purification systems and one well) at strategically located schools and clinics throughout southern Haiti with the addition of a donated Sunspring Solar Purification system donated by General Electric.
Hired a full-time Haitian clean water technician to provide ongoing maintenance, repairs and training to community members.
Distributed 47 Catholic Relief Services/UN Peacekeeper sawyer water filters and buckets to 23 rural communities.
Infrastructure
Built 12 classrooms in each of our partner sustainable communities thanks to the Bob & Renee Parsons Foundation and Go Daddy.
Installed 20 Bosch 230-watt solar panels in two community schools, providing renewable electricity to over 700 people so that they can charge their cell phones, buy cold drinks and have light at the school.
Improved small social infrastructure projects at the school level, including a school garden, a nursery, improving landscape design and leasing a soccer field for community use.
Rerouted a river that was threatening to flood and overtake one of our schools with the support of Building & Land Technology volunteer engineers.
Economy
Through our Cooking School, we trained 38 women and men in traditional and modern culinary practices, including baking, catering and safe food preparations through a 12-week program; now 70% of the graduates are successfully applying their new skills in the community.
Invested in 2 small social businesses, including a freezer business with cell phone charging station and a upcycled jewelry business, providing jobs to 11 Haitians.
Identified 200 women previously unable to borrow money, as they were below the necessary credit score, and trained them how to manage a business, balance their finances, open a bank account and on the idea of social empowerment by collaborating with a local microfinance institution, Fonkoze; they are now able to borrow up to 5000G ($100 USD) to start their own business and gain financial independence.
Produced and distributed or planted over 3,000 per year, including, mangos, avocados, cherries, cedar, oranges, limes, papayas and oak seedlings in two school to help reforest the communities.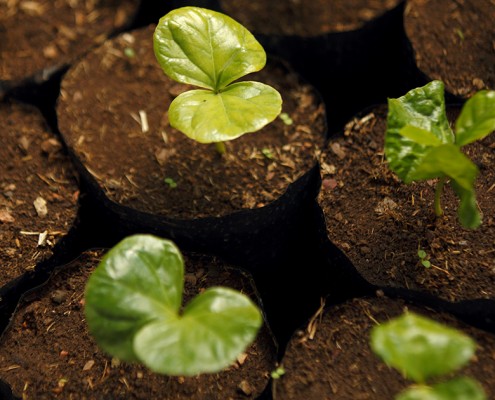 Created employment opportunities for Haitian professionals by hiring and training three full-time staff and two consultants to be a part of our Sustainable Communities team where they receive ongoing professional development opportunities, like specialized computer trainings and English Classes.