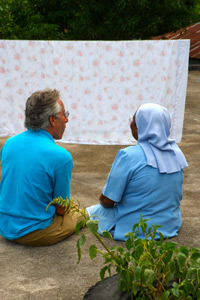 | | |
| --- | --- |
| | |
| Vitamin Angels founder Howard Schiffer shares a moment with Sister Denise, Director of Baraderes Nutrition Clinic | Vitamin Angels team member Paul with a malnourished child at Timoun Kontan Nutrition Clinic |
| | |
| Community Health Worker Julienne leads Ravine Sable kindergarteners in a song about hygiene and nutrition | Operations Officer Stanley leads a chorus on Nutrition with Baraderes children who have limited healthcare access |
Jennifer Lang, Program Manager, November 23rd 2011
This past week, Hope for Haiti was fortunate enough to receive a visit from one of our major in-kind donor organizations – Vitamin Angels. By providing Children's Multivitamins, Prenatal Vitamins, and Vitamin A, Vitamin Angels products are a major component of Hope for Haiti's Nutrition Program.
The team's trip began with a visit to Hope for Haiti's Infirmary Saint Etienne in Les Cayes, which serves the poorest of the poor who often travel miles by foot to see a doctor. At the Infirmary, Healthcare Director Dr. Steeve Victor oversees the distribution of Vitamin Angels products. "We distribute about 3 boxes of Vitamin Angels pre-natal vitamins to pregnant or lactating women per week – that's about 6,000 vitamins!"
Next, Hope for Haiti's Public Health Team performed a school-based Vitamin A distribution at rural partner Ravine Sable's pre-school. Vitamin Angel's team, which included pharmaceutical professionals as well as the organization's founder Howard Schiffer, expressed the importance of early Nutrition. "For kids under-5, proper Vitamin A has a huge impact on mortality," said Schiffer. The children in Hope for Haiti's 12 Public Health schools throughout the South receive Vitamin A doses, Children's Multivitamins, and the de-worming medication Albendazole during their bi-annual visit from Hope for Haiti nurses.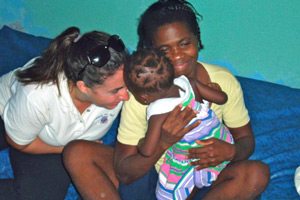 Country Director Sarah gets a laugh from a malnourished toddler at Timoun Kontan
The team was also able to visit with two of Hope for Haiti's long-term partner Nutrition Clinics. At Timoun Kontan in Aquin, the group spent several hours speaking with mothers of malnourished infants at the live-in recuperation center. Team members were able to share knowledge of proper nutrition by asking questions about daily food habits. At Baradéres' recuperation clinic, Vitamin Angels staff met with over 80 mothers of young children and saw their progress. "Taking the vitamins during my last pregnancy helped give me energy," a mother commented.
While we saw many great measures of improvement, there is still so much need. Mothers of malnourished children spoke of the difficulty in finding healthy inexpensive meals in their communities. Giving birth continues to hold potentially life-threatening complications in areas with little access to healthcare. Through our partnership with Vitamin Angels, Hope for Haiti will continue working to support Haitian women and children. Thank you Vitamin Angels!
| | | |
| --- | --- | --- |
| | | |
| Hope for Haiti's Public Health Nurse, Ms. Pierrette, distributes Vitamin A to a preschooler | Program Manager, Paula Prince, and students at Cornette Primary School, have some fun with the camera | Students pose for a picture outside of Cornette Primary School |

Our Mission
We work to improve the quality of life for the Haitian people, particularly children.
US Headquarters – Naples, Florida
1021 5th Ave North
Naples, FL 34102
Ph: 239-434-7183
Fax: 239-434-2839