Cultivating the Next Generation of Haitian Professionals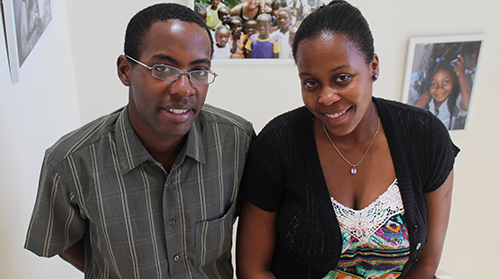 Ms. Daiyana Noa, Development Assistant (Naples)Dr. Sabine Thomas, Country Director (Haiti)
This summer Hope for Haiti had the privilege of welcoming two Haitian national interns to our Les Cayes office. This new initiative is focused on investing in a generation of Haitians who wish to remain on the cutting edge of international development, charity, innovation and technology all the while contributing to the growth of their country. These interns are spending several months in our office, putting their skills to use but also picking up new tools for their kits, before heading back to school or following a career of their choosing.
We welcomed Alexandra who has just completed a second year at Quisqueya University in Port-au-Prince with a focus in Business Management. Alexandra is our Administration/Event Coordination Intern. We also welcomed Gretry, a young man who had the opportunity to travel to the United States and cross-pollinate his skills with that of his peers in the US. Gretry is our Healthcare/Database Intern.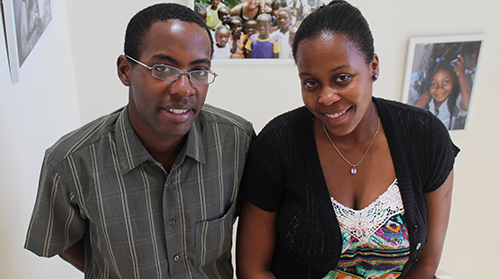 Interns Alexandra M. and Gertry R. coming in for a workday
We caught up with our intrepid interns and interviewed them on their time and experience with Hope for Haiti.
1) Hope for Haiti: What interests you the most about Hope for Haiti?
Alexandra: The education program interests me most, because my mother worked in an Elementary school. I was very interested in the teacher training seminars. I liked the passion and focus of the visiting teachers . They trained the Haitian teachers to use different methods which will help enhance student performance. It would be great if Hope for Haiti was able to offer more teacher trainings. Also, I enjoy working on the administrative side helping the Country Director with her daily tasks. It's a well-run organization!
Gretry: I am most interested in the work that's being done in healthcare. Today, I can really see the results of Hope for Haiti's hard work. To visit Hope for Haiti's partners and meet children in need (knowing they have been left) and that as an organization we provide help … that feels really good! Lending my skills, I would like to help and be part of this team in whatever way possible!
2) What interests you the most about working for Hope for Haiti?
Alexandra: The working environment! Hope for Haiti is a family; all the staff members are very respectful. One can work with joy and ask questions freely knowing that the staff is happy to answer them. They are willing to help when you ask. Also, knowing that every task I do is a way to help my community gives me great pleasure. As I always say "it's not the quantity but the quality." In this case, Hope for Haiti cares about quality and quantity!
Gretry: New challenges, great staff, great work environment, and helping everyone!
3) What have you learned since the internship began?
Alexandra: I have learned many things! I feel indispensable. When given a task, I make sure it's completed, and I try to do my best even if I don't know exactly how to do it. I work without stress! I also learned how to organize an event and all the details it requires. I have learned to trust in my skills now.
Gretry: I have learned how to conduct a proper inventory of medical supplies; performed analysis of work done at the Infirmary St. Etienne; created new templates/filed purchase orders; and experienced, first-hand, what the organization is doing.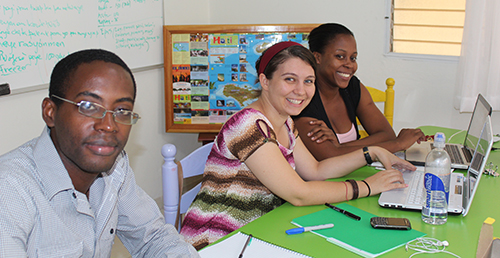 Interns Alexandra M. and Gretry R, working with Daiyana our Naples Development Assistant
4) Would you recommend interning at Hope for Haiti? Why?
Alexandra: Yes, because I think in Haiti the majority of youth do not have this opportunity. I've heard that in the US you have to do an internship or volunteer before you get your diploma. I wish this was the case in Haiti. To me, it's not the pay that is most important but that you feel joy and you help another person in this experience. You learn new skills and practice them in a professional environment.
Gretry: Yes, because of the work environment and the opportunity to learn something new every day. An intern will also learn how an organization focused on international development in Haiti functions.
5) How is Hope for Haiti contributing to the future of your country?
Alexandra: The desire to help others is contagious. Hope for Haiti works very hard to help in the South around Les Cayes. Hope for Haiti is educating people, changing minds and many benefit from their work. I encourage all the people who can donate to do so because those donations are creating opportunities and changing the lives of many.
Gretry: As an example, we visited one of Hope for Haiti's partners and I saw how passionate they are when it comes to helping the people who need it the most. Helping the poorest of the poor is the best thing because no one else is caring for them; not the government, not anyone… Hope for Haiti is providing a real hope to the poorest of the poor.
Jennifer Lang, Hope for Haiti's Healthcare Program Director expressed that "having the opportunity to work with interns has been extremely beneficial to our work in Les Cayes. Gretry has helped with administrative tasks and data-entry with keen attention to detail. These tasks have a true impact on our efficiency. For example, by analyzing our Infirmary's medication usage, we can better predict our needs and work as a team to source more key materials through donations. All of our interns, joining us in Haiti or in the U.S., have offered positive energy and a willingness to help and learn!"
This has been a gratifying experience for all our staff at our office in Haiti and also in Naples. We wish our interns the best in their future endeavors and thank them for spending their summer learning new skills and sharing their knowledge with us!