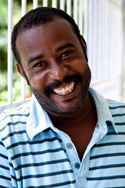 Raymond Lucien – Hope for Haiti's Vehicle Manager
"When I think of Raymond, I think of the day he made me a road," says incoming Country Director Jessica Jean-Francois with a smile of remembrance. "We were on our way to a rural school site visit. They had been working on building a road, but there were really steep hills and construction wasn't finished through the ravine. We got out of the car to start hiking – it's usually about an hour hike, and Raymond said he'd catch up later. Sure enough, he came and met us, and since then we've driven the whole way on the school site visits!"
Raymond laughs at the story, a contagious giggle that surprises when it erupts from the forty-one year old father's thoughtful face. "All the time my work makes me laugh," he says. The leader always keeps calm in adversity, a pillar of stability in charged situations. "My job is surprising because I do so much." As Hope for Haiti's vehicle manager, Raymond checks and services the emergency power generators, batteries, and cars for our team. With a demanding schedule of 104 rural site visits per year, repairs sometimes have to be made in the field – requiring a skillful worker that takes initiative.
"How I would describe Raymond," muses Country Director Sarah Dutcher while reflecting on her two-year experience here, "is super, super smart." Raymond started as a mechanic sixteen years ago after leaving school. "In Haiti, when you're a kid and you need a job, its good to learn a métier. I decided to learn several, like constructing traditional toll roofs, so I could have many skills to apply in my work." After working in local garages and as a driver for the Oblate priests, Raymond found Hope for Haiti. "We do good work, helping those who can't afford school or healthcare. I would like all Haitians to be able to live like me, even better than me! I would like Haiti to be a grand place, like the U.S. or Canada."
"In Haiti, we need to show people everything—the good and the bad. If I could plan a visit, I would show people the tourist areas – the beaches of Port Salut and in Aquin. Maybe it could change peoples minds a little bit; they might even want to live here!"
As a leader of Hope for Haiti's team, Raymond has met many visitors. "I would like to visit other places, but Haiti is my home. Its my country."
As he drives up mountains and through rivers, Raymond sees the countryside he grew up in. "When I was a boy, I wanted to study Agronomy – because my father's work was cultivating corn and sugar cane." This past year, he started growing corn on the land next to his house. Some days, he'll bring a bag of ears for the staff to eat grilled as a snack. Quiet generosity defines Raymond's personality and his job, serving to keep our staff safe and our programs successful.